| | | |
| --- | --- | --- |
| | | |
Dear family and friends,
As I looked back over last year's letter, I thought to myself, "I could just change the date and no one would know any different." Mostly, nothing much has changed. However, I will update what I said last year just a bit.
I'm still looking for a career-type job. I have had several part-time positions since the grant ended two years ago. A couple of those have ended; and I have picked up a couple more. And, I was able to teach US History this semester at Dallas Baptist University again. I had the highest complement a history teacher can get, I believe, from one of my students. He said that I made history interesting for him again. That really made my day! Other "professional news" is that the book that my friend and colleague Teri and I edited was finally published. (See the listing on Amazon.com.) We were also asked to do an article to go along with the book. We used mostly what Teri had written and modified it for the article. The book has gotten good reviews, so we were pleased.
Travel has been light again this year. I went to Key West, Florida this past summer. Visiting the Dry Tortugas was the highlight of that trip. That is an island (well, actually several are out there) about 70 miles west of Key West. A fort on the island is of significance to Civil War history. Dr. Samuel Mudd was imprisoned there after he was convicted of taking part in the assassination of President Lincoln. But aside from the history, the water, etc. are beautiful. You can see my photos on my Flickr account. Or check my Vacations page on the homepage to my Web site <www.txmike.com>.
The weather has been as strange as usual – sounds contradictory, but for Texas it is not. On this previous Sunday, the high temp was 79. That evening a cold front blew through. The high temp on Monday was about 29. This caused some problems. The television show, Extreme Makeover: Home Edition built a house for a family about 2 miles from my home. The group I volunteer for that works with the Fort Worth police, was asked to help during the "reveal" on Monday. I put on what I call my "Green Bay gear," the coat, gloves, etc. that I wore to the football game at Lambeau Field a few years ago. I was still cold. I had to take off my gloves to use my camera. Just in the minute or so that my skin was exposed, I felt I would never have use of that hand again. Fortunately, it thawed out. (Oh, and you can see photos of the house they built on my Flick account -- see the link above.)
Speaking of weather, below is a photo from last March. We had a nice snowfall.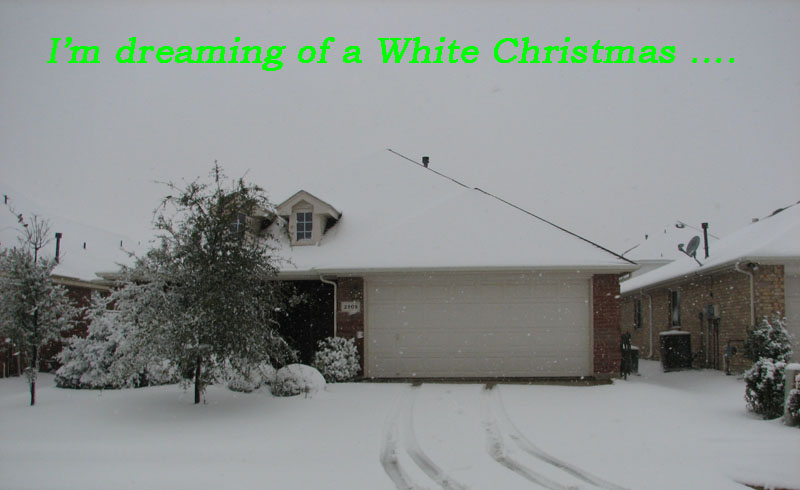 Church news this year is about a new way I am serving. I decided to start "rocking babies" every week. I work in "Babies A" -- the youngest group of babies (from birth until they can crawl). It has been wonderful and I have made some new friends, like Aubrey and Ellie and James and Lucas .... The only problem is that they leave us so quickly.
I pray that you all have a Merry Christmas and Happy New Year!
Until next year (if not sooner),